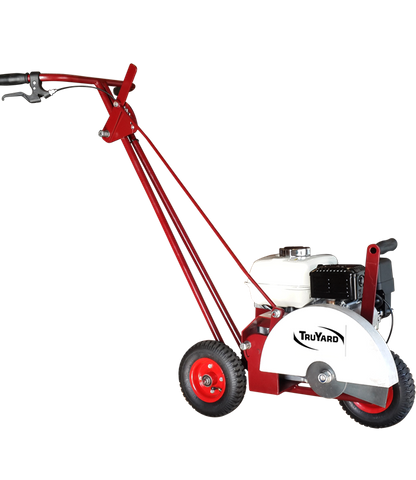 TRUYARD Edger Commercial Honda GX200 with Clutch
$1,549.00
Description
Description
Commercial quality built for commercial applications such as golf courses, Schools, Municipalities and large residential areas.
Massive 12" steel cutting blade to cut the deepest of edges with precision.
3 Wheel design for excellent maneuverability. Pneumatic wheels with steel rims and sealed bearings for minimal maintenance.
Very easy to use operator controls. Pre-determined adjustable height levers and throttle control all being accessible from the operator position.
Optional centrifugal clutch available for ease of starting.
Available with GX200 Honda OHV engine. Honda's GX series engines are legendary for superior reliability and performance.. Lower noise levels, lower vibration, and lower emissions.
Also available with Briggs and Stratton 5hp. Delivers easy starting, quieter operation, and life-extending features. With OHV technology coupled with a Lo-Tone muffler, these engines save on fuel economy with optimal power, greater torque, and improved sound and tonal quality.
Specifications
Specifications:
Engine Honda GX200 Blade 12"Easy to replace Wheels Pneumatic 210mm with steel ball bearings Height Control Single lever and easy to adjust Transmission V Belt A section with steel pulley's. An optional engine mounted centrifugal clutch is also available.
Warranty