Home

/

Petrol

/

TRUYARD 18inch Reel Mower Honda GX200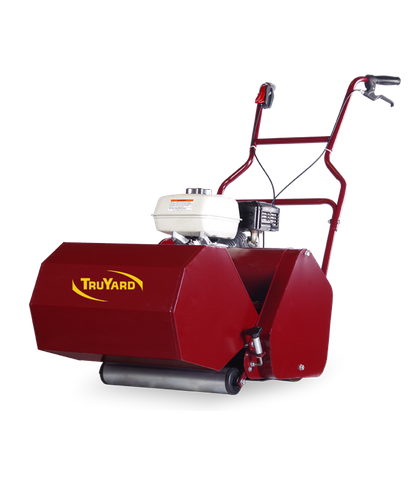 TRUYARD 18inch Reel Mower Honda GX200
$2,145.00
Description
Description
The Truyard RM 45127 Reel Mowers are fantastic for all types of lawn. For a healthy beautiful looking lawn, the precision cut of the Reel Mower is the only solution.With an automatic centrifugal drive clutch, the RM45 will glide around your lawn at you own speed. Powered by a Briggs & Stratton 3.5hp OHV engine.The Truyard RM45127 Reel Mower is the standard 450mm (18" cutting width). The Truyard RM 45127 Reel Mower has an all steel powder coasted construction for long life and durability. The self drive system is chain driven with high quality chain sprockets for years of trouble free mowing.The 45 Reel Mowers have large steel catchers with large grass holding capacity. The cutting cylinder is made out of high grade steel which maintains its cutting sharpness for longer periods.
Specifications
Specifications:
Cutting Cylinder Width 18" (450mm) Engine Honda GX200 Drive Method Self propelled with automated clutch. Cutting Cylinder Six blade high carbon steel hardened. Cutting Height ¼" – 1¼" (6mm-32mm) Height Adjustment Fully adjustable with single height control. Handles Foldable for easy transportation.
Warranty
Additional Info
450mm (approximately 18 inches) cutting width. Large grass catcher. Heavy duty cutting cylinder steel for long life and the perfect cut. High quality centrifugal clutch. All steel powder coated construction. Easy to adjust cutting height control.