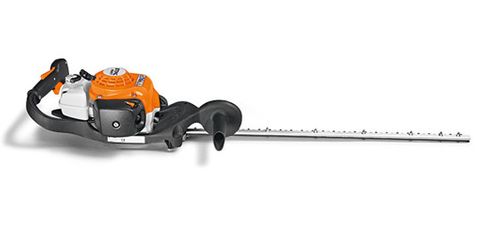 STIHL HEDGE TRIMMER Hs 87 T
Stock Code:
4237 012 2909
$999.00
Description
Description
Professional hedge trimmers with 2-Mix engine technology. The single sided cutting blade offers excellent balance and control, especially when shaping and trimming the tops of hedges. With a reduction in weight and increased efficiency, these machines will make light work of all trimming tasks.
Specifications
Specifications:
Blade Length mm 1.000 Displacement cm³ 22.7 Weight kg 1) 5.5 Tooth spacing 30mm Tank volume 460ml
Warranty
2 Year – Personal, Domestic or Household Use 2 Year – Farming Use 1 Year – Professional/Commercial Use
Additional Info
THIS STIHL MACHINE IS ONLY AVAILABLE FOR PICK UP IN STORE. YOUR MACHINE WILL BE FULLY ASSEMBLED AND PRE DELIVERED BEFORE PICK UP ENSURING YOU GET THE MOST FROM YOUR NEW STIHL PRODUCT.