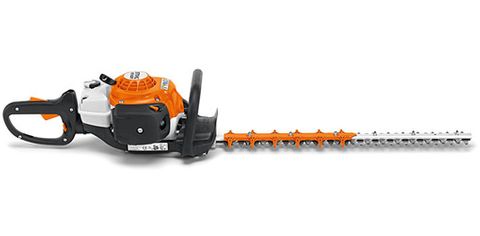 STIHL HEDGE TRIMMER Hs 82 R
Stock Code:
4237 011 2963
$849.00
Description
Description
Professional tool with lower blade speed for more powerful cutting. 2-MIX engine, STIHL anti-vibration system, long-life air filter system, double sided cutting blades in pruning version, rotating multi-function handle, screwed-on cut and tip protector, stop button. The R variations of the STIHL HS 82 are designed specifically for large volume cutting. They feature a cutting blade with wide tooth spacing and longer tooth height. The gearing allows a high cutting power at medium stroke rate. The R variations provide the possibility of cutting of thicker branches and completing clearing work faster and more easily.
Specifications
Specifications:
22.7cm3, 0.7kw / 1hp Weight 5.7kg, length 750mm
Warranty
2 Year – Personal, Domestic or Household Use 2 Year – Farming Use 1 Year – Professional/Commercial Use
Additional Info
THIS STIHL MACHINE IS ONLY AVAILABLE FOR PICK UP IN STORE. YOUR MACHINE WILL BE FULLY ASSEMBLED AND PRE DELIVERED BEFORE PICK UP ENSURING YOU GET THE MOST FROM YOUR NEW STIHL PRODUCT.