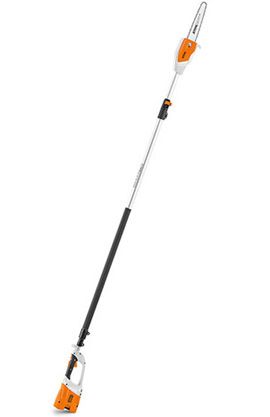 STIHL POLE PRUNER HTA 85 Cordless
Stock Code:
4857 200 0029
$799.00
Description
Description
Setting new heights. HTA 85 Telescopic Cordless Pole Pruner. This quiet, lightweight cordless pole pruner cuts and trims trees up to 5 meters tall cleanly, quickly and comfortably. The HTA 85 is perfect for noise-sensitive areas such as parks, schools, hospital grounds and residential areas. Thanks to its telescopic shaft, the pruner can be adjusted between 2.7 meters and 3.9 meters, with a quick action, tool-free locking system. Recommended bar length 30cm/12".
Specifications
Specifications:
Rated Voltage 36v, Run time up to 55min (AP300) 30cm/ 12" Bar with STIHL 1/4" P Picco Micro 3 Chain 4.9kg - Weight excluding battery, including guide bar and saw chain
Warranty
2 Year – Personal, Domestic or Household Use 2 Year – Farming Use 1 Year – Professional/Commercial Use
Additional Info
THIS STIHL MACHINE IS ONLY AVAILABLE FOR PICK UP IN STORE. YOUR MACHINE WILL BE FULLY ASSEMBLED AND PRE DELIVERED BEFORE PICK UP ENSURING YOU GET THE MOST FROM YOUR NEW STIHL PRODUCT.