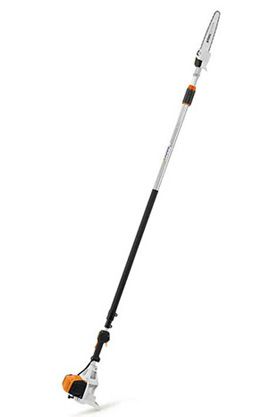 STIHL POLE PRUNER Ht 103
Stock Code:
4182 200 0180
$1,399.00
Description
Description
Professional pole pruner for orchard and arborist work. Lightweight, compact transmission with captive nut on the sprocket cover, optimised cutting performance due to the 1/4" PM3 saw chain, 4-MIX® engine with a simplified start system. Highly ergonomic and very stable due to the reduced weight of the square-cut telescopic shaft. Total length: 270 – 390 cm.
Specifications
Specifications:
Displacement cm³ 31.4 Weight kg 1) 7.2 Rollomatic E, cutting length 30cm Total length (min) cm 4) 2.700 Total length (max) cm 4) 3.900 Saw chain pitch 1/4"P
Warranty
2 Year – Personal, Domestic or Household Use 2 Year – Farming Use 1 Year – Professional/Commercial Use
Additional Info
THIS STIHL MACHINE IS ONLY AVAILABLE FOR PICK UP IN STORE. YOUR MACHINE WILL BE FULLY ASSEMBLED AND PRE DELIVERED BEFORE PICK UP ENSURING YOU GET THE MOST FROM YOUR NEW STIHL PRODUCT.