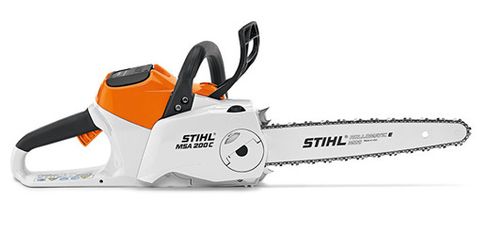 Stihl Chainsaw MSA 200 C-BQ - 35cm/14 - Tool
Stock Code:
1251 200 0021
$499.00
Description
Description
The MSA 200 C-BQ is the top model in the STIHL cordless chainsaw. The cut strong powerhouse in the 36v class is the ideal tool, when removing, in horticulture, in grounds maintenance, firewood when sawing or all sawing in enclosed spaces. STIHL Quick Chain Tensioning, Operating Handle, STIHL Ematic system, EC Motor, Tool-free oil tank cap. This is a Skin Only - No Battery and Charger
Specifications
Specifications:
Rated Voltage 36v, Run time up to 45min (AP300) 35cm/ 14" Bar with STIHL 1/4" Picco Micro 3 Chain 3.3kg - Weight excluding battery, including guide bar and saw chain
Warranty
2 Year – Personal, Domestic or Household Use 2 Year – Farming Use 1 Year – Professional/Commercial Use
Additional Info
THIS STIHL MACHINE IS ONLY AVAILABLE FOR PICK UP IN STORE. YOUR MACHINE WILL BE FULLY ASSEMBLED AND PRE DELIVERED BEFORE PICK UP ENSURING YOU GET THE MOST FROM YOUR NEW STIHL PRODUCT.