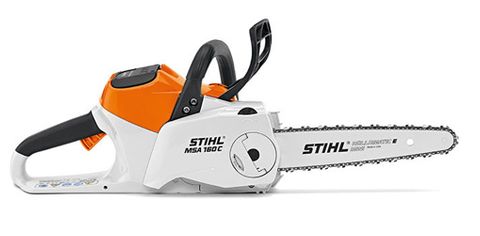 STIHL CHAINSAW MSA 160 C-BQ Cordless chain saw
Stock Code:
1250 200 0049
$429.00
Description
Description
Cordless chainsaw for mobile use in noise-sensitive areas, no ear protection necessary. STIHL Quick Chain Tensioning, QuickStop® Super chain brake, tool-free bar lube cap, high performance cutting attachment optimized for cordless chainsaws. Battery & Charger not included. No fuel no emissions, Mobile, light, powerful, Fast clean cutting, Quick chain tensioning. This is a Skin Only - No Battery and Charger
Specifications
Specifications:
Rated Voltage 36v, Run time up to 52min (AP300) 30cm/ 12" Bar with STIHL 1/4" P Picco Micro 3 Chain 3.2kg - Weight excluding battery, including guide bar and saw chain
Warranty
2 Year – Personal, Domestic or Household Use 2 Year – Farming Use 1 Year – Professional/Commercial Use
Additional Info
THIS STIHL MACHINE IS ONLY AVAILABLE FOR PICK UP IN STORE. YOUR MACHINE WILL BE FULLY ASSEMBLED AND PRE DELIVERED BEFORE PICK UP ENSURING YOU GET THE MOST FROM YOUR NEW STIHL PRODUCT.