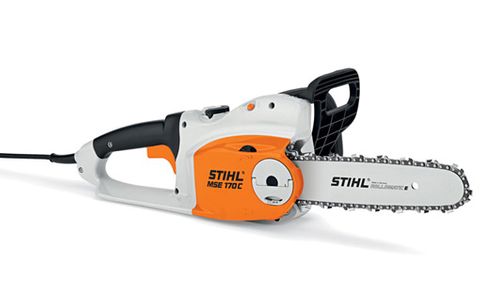 STIHL CHAINSAW MSE 170 C-BQ 35cm/14
Stock Code:
1209 200 0050
$429.00
Description
Description
Lightweight, convenient and reliable, this electric chainsaw gets the job done quickly and quietly. Offering excellent cutting performance, zero emissions and is comfortable, safe and easy to use. Great for cutting firewood, DIY or building jobs for work or around the home. STIHL Quick Chain Tensioning, QuickStop® chain brake, STIHL Ematic system
Specifications
Specifications:
Rated Voltage 240V, Power Consumption 1.7kW 35cm/ 14" Bar with STIHL 3/8" Picco Micro Mini 3 Chain 4.3kg - Weight excluding cable and chain oil, including guide bar and saw chain
Warranty
2 Year – Personal, Domestic or Household Use 2 Year – Farming Use 1 Year – Professional/Commercial Use
Additional Info
THIS STIHL MACHINE IS ONLY AVAILABLE FOR PICK UP IN STORE. YOUR MACHINE WILL BE FULLY ASSEMBLED AND PRE DELIVERED BEFORE PICK UP ENSURING YOU GET THE MOST FROM YOUR NEW STIHL PRODUCT.