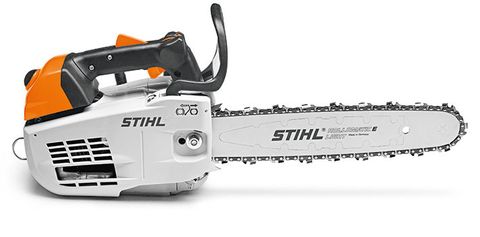 STIHL CHAINSAW MS 201 TC-M 30cm/12
Stock Code:
1145 200 0247
$1,399.00
Description
Description
The MS 201 TC-M is STIHL's most powerful top handled chainsaw. Comes as standard with M-Tronic and 2-MIX technology, providing optimum engine performance from the start. The captive nut on the sprocket cover allows for quick changing of the chain. The lightweight guide bar reduces the overall weight and keeps the saw perfectly balanced. Top handled saws are specially designed for working in an aerial environment and can only be used by trained professionals. M-Tronic, Electronic cold/warm start recognition, Anti-vibration
Specifications
Specifications:
35.2cm3, 1.8kW / 2.4hp 30cm/ 12" Bar with STIHL 3/8" Picco Super 3 Chain 3.7kg - Weight excluding fuel, guide bar or saw ch
Warranty
2 Year – Personal, Domestic or Household Use 2 Year – Farming Use 1 Year – Professional/Commercial Use
Additional Info
THIS STIHL MACHINE IS ONLY AVAILABLE FOR PICK UP IN STORE. YOUR MACHINE WILL BE FULLY ASSEMBLED AND PRE DELIVERED BEFORE PICK UP ENSURING YOU GET THE MOST FROM YOUR NEW STIHL PRODUCT.