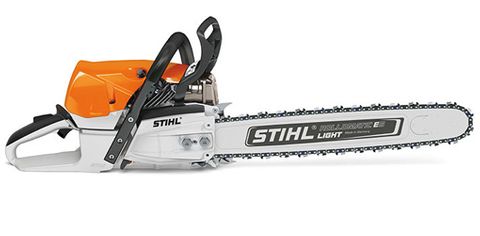 STIHL CHAINSAW MS 462 C-M Lightbar
Stock Code:
1142 200 0114
$2,059.00
Description
Description
The lightest high-performance saw in the 70 cm³ cubic capacity class. Extraordinarily easy to manoeuvre, with outstanding acceleration. For felling and pruning in medium-density and high-density stands. Fitted with M-Tronic as standard; HD2 filter with very good filtering effect. Captive nuts on the sprocket cover make it easy to change the chain; tool-free fuel caps for easy and safe filling with fuels and lubricants; economical 2-MIX engine.
Specifications
Specifications:
72.2cm3, 4.4kW / 6.0hp 50cm/ 20" Bar with STIHL 3/8" Super Chain 6.0kg - Weight excluding fuel, guide bar or saw chain
Warranty
2 Year – Personal, Domestic or Household Use 2 Year – Farming Use 1 Year – Professional/Commercial Use
Additional Info
THIS STIHL MACHINE IS ONLY AVAILABLE FOR PICK UP IN STORE. YOUR MACHINE WILL BE FULLY ASSEMBLED AND PRE DELIVERED BEFORE PICK UP ENSURING YOU GET THE MOST FROM YOUR NEW STIHL PRODUCT.