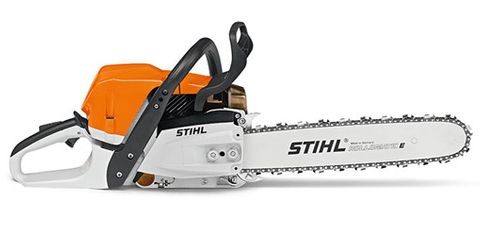 STIHL CHAINSAW MS 362 C-M - 50cm/20
Stock Code:
1140 200 0692
$1,699.00
Description
Description
The MS 362 C-M is a rugged all-rounder equipped with STIHL's environmentally friendly 2-MIX engine technology for less fuel consumption, less emissions and outstanding cutting performance. In addition the MS 362 C-M features a heavy duty (HD) air filter system with pre-separation for long filter life which equates to less downtime cleaning the filter. The MS 362 C-M is fitted with STIHL's M-TRONIC electronic engine management system which enables the saw to automatically adjust to varying fuel grades, changes in altitude and temperature and as there are no manual carburettor adjustments starting this saw is easier than ever before, simply push the start level to the on position and pull. The MS 362 C-M is now the only choice for professionals.
Specifications
Specifications:
59.0cm3, 3.5kW / 4.8hp 50cm/ 20" Bar with STIHL 3/8" Rapid Super Chain 5.6kg - Weight excluding fuel, guide bar or saw chain
Warranty
2 Year – Personal, Domestic or Household Use 2 Year – Farming Use 1 Year – Professional/Commercial Use
Additional Info
THIS STIHL MACHINE IS ONLY AVAILABLE FOR PICK UP IN STORE. YOUR MACHINE WILL BE FULLY ASSEMBLED AND PRE DELIVERED BEFORE PICK UP ENSURING YOU GET THE MOST FROM YOUR NEW STIHL PRODUCT.