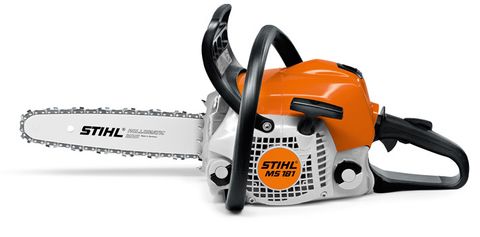 Stihl Chainsaw MS 181 40cm/16
Stock Code:
1139 200 0386
$449.00
Description
Description
A light and low-vibration chainsaw. Wide range of features such as long-life air filter system and STIHL anti-vibration system. Great for cutting firewood and felling small trees. Up to 20 % less fuel consumption and up to 70 % lower emissions compared with STIHL 2-stroke engines of the same power output without 2-MIX technology.
Specifications
Specifications:
Displacement cc 31.8 Power output kW/bhp 1.5/2 Weight kg 1) 4.3 STIHL Oilomatic saw chain pitch/type 3/8" P Standard chain MM3 Tank volume mL 270.00 Power-to-weight ratio kg/kW 2.9 Saw chain pitch 3/8"P
Warranty
2 Year – Personal, Domestic or Household Use 2 Year – Farming Use 1 Year – Professional/Commercial Use
Additional Info
THIS STIHL MACHINE IS ONLY AVAILABLE FOR PICK UP IN STORE. YOUR MACHINE WILL BE FULLY ASSEMBLED AND PRE DELIVERED BEFORE PICK UP ENSURING YOU GET THE MOST FROM YOUR NEW STIHL PRODUCT.