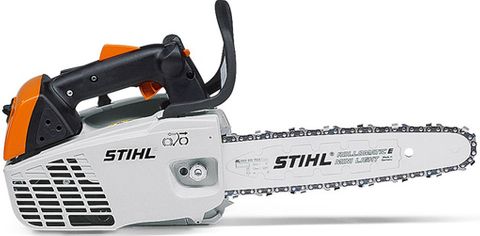 STIHL CHAINSAW MS 193 T 30cm/12
Stock Code:
1137 200 0306
$749.00
Description
Description
Light, compact saw for tree maintenance with an excellent. The picco chain offers superb cutting characteristics and outstanding cutting performance. Optimum ergonomics and handling make this saw both light and superbly balanced for use in an aerial environment. The MS 193 T has been specially designed for professional tree surgeons and is only intended for use by trained tree service personnel. Low emissions 2-Mix fuel-saving engine, Versatile for a range of jobs, Great power-to-weight ratio, Very responsive
Specifications
Specifications:
30.1cm3, 1.3kW / 1.8hp 30cm/ 12" Bar with STIHL 1/4" Picco Micro 3 Chain 3.3kg - Weight excluding fuel, guide bar or saw chain
Warranty
2 Year – Personal, Domestic or Household Use 2 Year – Farming Use 1 Year – Professional/Commercial Use
Additional Info
THIS STIHL MACHINE IS ONLY AVAILABLE FOR PICK UP IN STORE. YOUR MACHINE WILL BE FULLY ASSEMBLED AND PRE DELIVERED BEFORE PICK UP ENSURING YOU GET THE MOST FROM YOUR NEW STIHL PRODUCT.