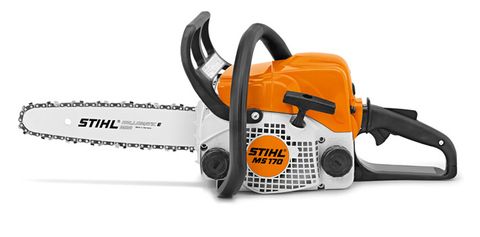 Stihl Chainsaw MS 170-Z 3/8P 35cm/14
Stock Code:
1130 200 0514
$249.00
Description
Description
MS170 Miniboss® Chainsaw
Entry-level model for cutting firewood. Easy to operate with combi-lever, automatic STIHL Ematic chain lubrication system for optimum lubrication of the chain. The economical, compact and lightweight model in the MiniBoss® range.
Simple starting, Compact design, Lightweight, Easy maintenance
Specifications
Specifications:
30.1cc3, 1.3kW / 1.8hp 35cm / 14" Bar with STIHL 3/8" Picco Micro Mini 3 Chain 4.1kg - Weight excluding fuel, guide bar or saw chain
Warranty
2 Year – Personal, Domestic or Household Use 2 Year – Farming Use 1 Year – Professional/Commercial Use
Additional Info
THIS STIHL MACHINE IS ONLY AVAILABLE FOR PICK UP IN STORE. YOUR MACHINE WILL BE FULLY ASSEMBLED AND PRE DELIVERED BEFORE PICK UP ENSURING YOU GET THE MOST FROM YOUR NEW STIHL PRODUCT.