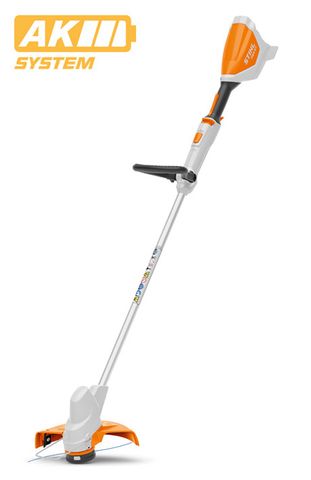 STIHL TRIMMER FSA 57 KIT
Stock Code:
4522 011 5744
$349.00
Description
Description
Lightweight and easy-to-use battery brushcutter for maintaining lawns and edges, and the ideal tool for trimming around obstacles such as trees and shrubs. With a cutting circle diameter of 280mm, soft handle, adjustable shaft length at the press of a button and handle adjustment without any tools required the FSA 57 offers convenient ease of use at every turn. Included: AutoCut C 3-2 nylon mowing head, refill with no tools required. Optional: PolyCut 3-2 available as an accessory
Specifications
Specifications:
Weight kg 1) 3.5 Weight kg 2) 2.7 Rated voltage V 36 Sound pressure level dB(A) 3) 74 Sound power level dB(A) 3) 89 Total length cm 5) 1.490 Cutting diameter mm 280 Battery life time AK 10 min 6) up to 25 Battery life time AK 20 min 6) up to 50 Battery life AK 30 min 7) up to 60
Warranty
2 Year – Personal, Domestic or Household Use 2 Year – Farming Use 1 Year – Professional/Commercial Use
Additional Info
THIS STIHL MACHINE IS ONLY AVAILABLE FOR PICK UP IN STORE. YOUR MACHINE WILL BE FULLY ASSEMBLED AND PRE DELIVERED BEFORE PICK UP ENSURING YOU GET THE MOST FROM YOUR NEW STIHL PRODUCT.