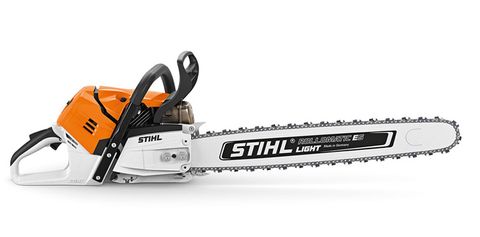 STIHL CHAINSAW MS 500i-Z 3/8" R ,50cm/20",36RS
Stock Code:
1147 200 0021
$2,099.00
Description
Description
First ever chainsaw with STIHL Injection Technology. The best power-to-weight ratio on the market, and the simplest operation. Ideally suited for the harvesting and processing of large timber. All thanks to its unique lightweight design and outstanding acceleration. New bumper spikes, HD2 filter, captive nut on the sprocket cover for easy chain change, controlled-delivery oil pump, and tool-free fuel cap for safe and easy filling with fuels and lubricants.
Specifications
Specifications:
Sound power level dB(A) 1) 119 Sound pressure level dB(A) 1) 106 Displacement cc 79.2 Power output kW/bhp 5/6.8 Weight kg 2) 6.5 Power-to-weight ratio kg/kW 1.3 STIHL Oilomatic saw chain pitch/type 3/8 " Tank volume mL 785.00
Warranty
2 Year – Personal, Domestic or Household Use 2 Year – Farming Use 1 Year – Professional/Commercial Use
Additional Info
THIS STIHL MACHINE IS ONLY AVAILABLE FOR PICK UP IN STORE. YOUR MACHINE WILL BE FULLY ASSEMBLED AND PRE DELIVERED BEFORE PICK UP ENSURING YOU GET THE MOST FROM YOUR NEW STIHL PRODUCT.