Home

/

STIHL SHREDDER VAC SH 86C-E Z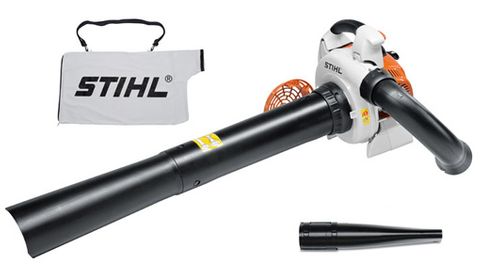 STIHL SHREDDER VAC SH 86C-E Z
Stock Code:
4241 011 0941
$499.00
Description
Description
Professional Vacuum Shredder with high vacuum power and shredding performance. Low emissions with great fuel economy, ideal for clearing fallen leaves, grass trimmings and other garden debris in commercial applications and for the discerning homeowner. Comes with blower function as standard. Infinitely variable speed control, round nozzle, flat nozzle, STIHL ElastoStart, STIHL anti-vibration system, 2-MIX engine, HD2 filter.

STIHL 2-MIX ENGINE

The new 2-MIX engine features an advanced stratified charge system that boosts power, whilst reducing consumption and pollution, significantly lowering unburned hydrocarbons in the exhaust. The result is a cleaner, more fuel efficient engine. Manual fuel pump (Purger)
MANUAL FUEL PUMP (PURGER)

A small fuel pump delivers fuel to the carburettor at the touch of a button. This reduces the number of starting strokes required from a cold start.Multi-function control handle
MULTI-FUNCTION CONTROL HANDLE

This houses all the engine controls. Easy, comfortable thumb-operated control means the operator's hand never leaves the handl
Specifications
Specifications:
27.2cm3,Weight 5.6kg, Max Air Throughput: 770m3/h (Without blower attachment/nozzle)
Warranty
2 Year – Personal, Domestic or Household Use 2 Year – Farming Use 1 Year – Professional/Commercial Use
Additional Info
THIS STIHL MACHINE IS ONLY AVAILABLE FOR PICK UP IN STORE. YOUR MACHINE WILL BE FULLY ASSEMBLED AND PRE DELIVERED BEFORE PICK UP ENSURING YOU GET THE MOST FROM YOUR NEW STIHL PRODUCT.