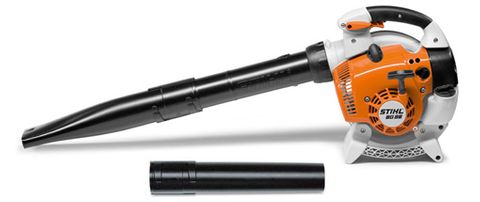 STIHL BLOWER BG 86 C-E Z
Stock Code:
4241 011 1770
$399.00
Description
Description
To clear large areas of leaves and grass. Suitable for use in very dusty areas, thanks to th new HD2 filter. Round nozzle, flat nozzle, STIHL anti-vibration system, STIHL Easy2Start, 2-MIX engine, locking throttle level with stop button. Very strong air jet for clearing large areas. Blower with great fuel economy and low emissions ideal for commercial use.
STIHL 2-MIX ENGINE

The new 2-MIX engine features an advanced stratified charge system that boosts power, whilst reducing consumption and pollution, significantly lowering unburned hydrocarbons in the exhaust. The result is a cleaner, more fuel efficient engine. STIHL Anti-vibration system
STIHL ANTI-VIBRATION SYSTEM

Reduces vibration to a minimum, thus guaranteeing work comfort when using for longer periods.
STIHL EASY2START

Easy starting with less effort due to an additional spring between the crankshaft and the rope rotor. A smooth pull on the starter rope tensions the spring against the compression resistance of the engine. The jerks are not transmitted to the rope. The spring automatically transmits the stored energy to the crankshaft, causing it to turn and ensuring reliable starting of the engine. Throttle lock with built in stop switch
THROTTLE LOCK WITH BUILT IN STOP SWITCH

The running machine switches off reliably after a brief press of a button. Once the machine is at a standstill, the ignition activates again automatically. Thus the ignition is always ready for starting.
ONE HANDLE CONTROL WITH SOFT GRIP AREA

For secure and comfortable grip. With integrated anti-static system.
MANUAL FUEL PUMP (PURGER)

A small fuel pump delivers fuel to the carburettor at the touch of a button. This reduces the number of starting strokes required from a cold start.
Specifications
Specifications:
27.2cm3,Weight 4.4kg, Max Air Throughput: 810m3/h (Without blower attachment/nozzle)
Warranty
2 Year – Personal, Domestic or Household Use 2 Year – Farming Use 1 Year – Professional/Commercial Use
Additional Info
THIS STIHL MACHINE IS ONLY AVAILABLE FOR PICK UP IN STORE. YOUR MACHINE WILL BE FULLY ASSEMBLED AND PRE DELIVERED BEFORE PICK UP ENSURING YOU GET THE MOST FROM YOUR NEW STIHL PRODUCT.