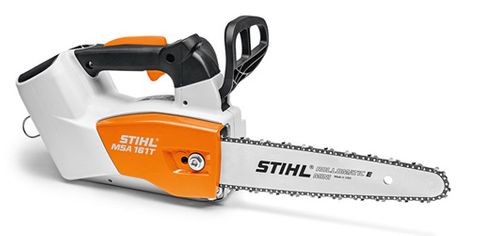 STIHL CHAINSAW MSA 161 T Tool
Stock Code:
1252 200 0044
$649.00
Description
Description
Very lightweight, professional 36V battery arborist saw for use in noise-sensitive areas. Thanks to its powerful engine and a chain speed of 16 m/s (40% higher than its predecessor the MSA 160 T), the MSA 161 T also accelerates very rapidly and delivers fine, extremely precise cutting. The saw comes with a high-quality ¼" P cutting attachment and captive nut on the sprocket cover as standard.
Specifications
Specifications:
Cutting length 12'' Rollomatic E, cutting length 30cm Rated voltage 36v Weight without battery 2.1kg Saw chain pitch 1/4"P
Warranty
2 Year – Personal, Domestic or Household Use 2 Year – Farming Use 1 Year – Professional/Commercial Use
Additional Info
THIS STIHL MACHINE IS ONLY AVAILABLE FOR PICK UP IN STORE. YOUR MACHINE WILL BE FULLY ASSEMBLED AND PRE DELIVERED BEFORE PICK UP ENSURING YOU GET THE MOST FROM YOUR NEW STIHL PRODUCT.