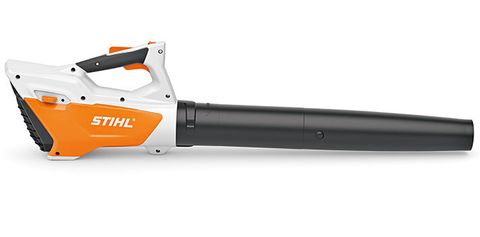 STIHL BLOWER BGA 45 - Kit
Stock Code:
4513 011 5904
$199.00
Description
Description
Easily manoeuvrable battery blower for cleaning small outdoor areas at home. Round nozzle and integrated battery with charge level indicator.
SOFT HANDLE

Thanks to the two-hand control device and soft handle with lever lock function and lever, the user always has the cordless blower safely under control.
COMPACT AND ERGONOMIC

The integrated battery cells mean that the tool is optimally balanced. The BGA is easy to handle. Its streamlined design creates plenty of room for manoeuvre.
CHARGE LEVEL INDICATOR

The remaining working or charging time can be viewed at any time by pressing the button. Four LEDs light up, or flash green or red, to indicate the charging state or problems.
ACTIVATION KEY

The tool can only be used with the activation key. If the key is removed, the tool switches off to guard against unintentional activation. The tool can be safely stored and transported.
Specifications
Specifications:
18v, Weight 4.6kg
Warranty
2 Year – Personal, Domestic or Household Use 2 Year – Farming Use 1 Year – Professional/Commercial Use
Additional Info
THIS STIHL MACHINE IS ONLY AVAILABLE FOR PICK UP IN STORE. YOUR MACHINE WILL BE FULLY ASSEMBLED AND PRE DELIVERED BEFORE PICK UP ENSURING YOU GET THE MOST FROM YOUR NEW STIHL PRODUCT.