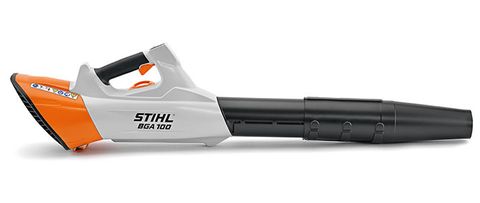 STIHL BLOWER BGA 100 - Tool
Stock Code:
4866 011 5900
$549.00
Description
Description
Pleasantly quiet, lightweight and very powerful battery blower for professional use, especially in urban, noise-sensitive areas. Round nozzle, soft handle, three power levels with additional boost function, three-level length-adjustable blower tube, lifting eye for support cushion. The AR 3000 backpack battery with support cushion and comfort carry ring is recommended when working for extended periods, while the AP battery is available for shorter periods of work. Chargers and batteries are available separately.
Specifications
Specifications:
Weight 2.5kg Air Throughput from 760m3/h Blowing Force Up to 17 N Air Speed Up to 63m/s
Warranty
2 Year – Personal, Domestic or Household Use 2 Year – Farming Use 1 Year – Professional/Commercial Use
Additional Info
THIS STIHL MACHINE IS ONLY AVAILABLE FOR PICK UP IN STORE. YOUR MACHINE WILL BE FULLY ASSEMBLED AND PRE DELIVERED BEFORE PICK UP ENSURING YOU GET THE MOST FROM YOUR NEW STIHL PRODUCT.