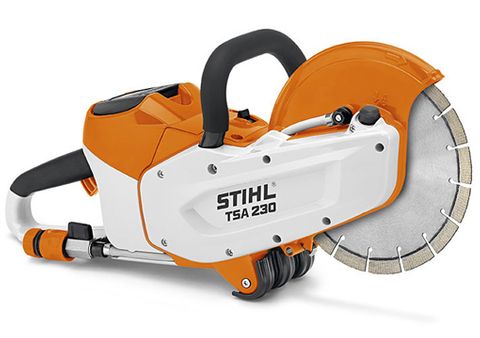 STIHL CUTQUICK TSA 230 C/LESS
Stock Code:
4864 011 6600
$799.00
Description
Description
Lightweight, maneuverable, and surprisingly powerful. STIHL has combined its vast experience of cut-off saws with its enduring Lithium-Ion battery technology to power the new TSA 230 cut-off machine. With no fuel or emissions its battery power makes it suited to use indoors and in enclosed spaces; it is also very quiet running. Cutting neatly and swiftly up to 70mm deep, the choice of STIHL abrasive wheels gives the new model the capacity to cut steel and metal pipes, through to concrete, bricks and roof tiles. Very easy and comfortable to handle. For various applications in civil engineering. Ideal for builders, roofers, gardeners and landscapers. 36V. STIHL recommends the use of the AP 300 battery for maximum performance.
Specifications
Specifications:
Battery Voltage 36v, Cutting Wheel Size 230mm, Maximum Cutting Depth 70mm Weight: 3.9kg
Warranty
2 Year – Personal, Domestic or Household Use 2 Year – Farming Use 1 Year – Professional/Commercial Use
Additional Info
THIS STIHL MACHINE IS ONLY AVAILABLE FOR PICK UP IN STORE. YOUR MACHINE WILL BE FULLY ASSEMBLED AND PRE DELIVERED BEFORE PICK UP ENSURING YOU GET THE MOST FROM YOUR NEW STIHL PRODUCT.