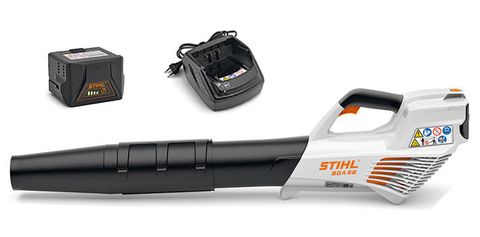 STIHL BLOWER BGA 56 Kit
Stock Code:
4523 011 5914
$349.00
Description
Description
Our new compact battery blower has the performance to effortlessly clear your lawn, paving and driveways of leaves, grass cuttings and dirt. It's light weight and perfectly balanced design make it both comfortable and easy to use. Just pull the trigger and blow. It's also a real powerhouse with 600m3/h of air throughput. The BGA 56 nozzle can be easily adjusted to suit your needs and height with three settings for length. Comes with AK 20 battery and AL 101 charger as standard.
Specifications
Specifications:
Weight 3.3kg (AK20) Air Throughput 600m3/h Blowing Force 9 N Blower Tube Length Adjustment 16cm with three settings Air Speed 45m/s
Warranty
2 Year – Personal, Domestic or Household Use 2 Year – Farming Use 1 Year – Professional/Commercial Use
Additional Info
THIS STIHL MACHINE IS ONLY AVAILABLE FOR PICK UP IN STORE. YOUR MACHINE WILL BE FULLY ASSEMBLED AND PRE DELIVERED BEFORE PICK UP ENSURING YOU GET THE MOST FROM YOUR NEW STIHL PRODUCT.