Home

/

Battery

/

STIHL HEDGE TRIMMER Hsa 56 C/less Skin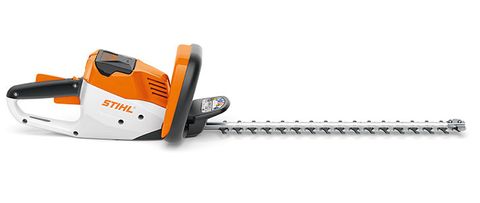 STIHL HEDGE TRIMMER Hsa 56 C/less Skin
Stock Code:
4521 011 3500
$299.00
Description
Description
Just like every tool in the compact battery range our hedge trimmer is incredibly user-friendly. All you have to concentrate on is making your hedges the envy of the street. It's light-weight, maneuverable, quiet (no ear protection required), virtually vibration free and it's unbelievably good at cutting hedges. In fact it can cut up to 140 metres of hedge on a single charge. The reason it's so good at cutting hedges is the combination of its fast cutting speed and the superior performance of its unique cutting blades. That's why STIHL hedge trimmers are the choice of landscapers and topiary masters the world over.
Specifications
Specifications:
Weight 3.7kg (AK10) 40min run time | 4.1kg (AK20) 80min run time, Cutting Thickness up to 16mm, Stroke Rate 2,800 per min, Bar Length 45cm, Tooth Spacing 30mm
Warranty
2 Year – Personal, Domestic or Household Use 2 Year – Farming Use 1 Year – Professional/Commercial Use
Additional Info
THIS STIHL MACHINE IS ONLY AVAILABLE FOR PICK UP IN STORE. YOUR MACHINE WILL BE FULLY ASSEMBLED AND PRE DELIVERED BEFORE PICK UP ENSURING YOU GET THE MOST FROM YOUR NEW STIHL PRODUCT.